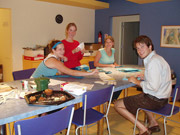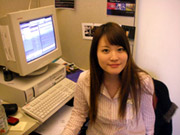 "There's nothing better than practical experience, and that's what RAC offered me."
Kasper, an intern in the summer of 2008.
"This internship helped me get a job and meet people who have had a big impact on my life and decisions regarding my career in the arts.
Jessica, Internship Fall/Winter 2007.
Find out how exciting working in the arts can be while you update your resume, explore career paths, develop your skills, and engage in networking.
Successful trainees come from a variety of disciplines. These include art history, marketing, graphic design, political science, business, visual arts, anthropology, and art management.
Internships at the RAC are free, but you will get free tickets to events at any of the organizations that we fund!
For more information, read the Internship Newsletter.
Internship Catherine Dunham
The Kathryn Dunham Paid Internship Program was created by Sarah and Jack Burke to give African Americans the opportunity to explore, gain experience and be mentors in art management.
Want to apply? Send a cover letter and CV:
Internship Program Manager
Regional Arts Commission
6128 Delmar Boulevard.
St. Louis, MO 63112.