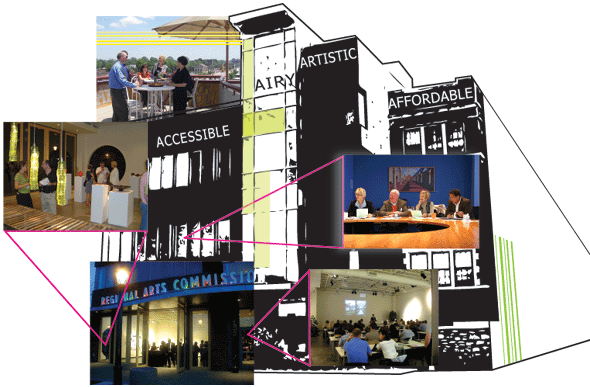 Artistic. Hairy. Available. Accessible.
Step to another space for meetings and parties: the creative world of the Regional Art Commission!
The RAC building on the Delmar Loop, opposite The Pageant, attracts attention with its unusual architecture, curved neon sign, as well as Cardiac, brilliantly painted glass work by William Cochran on the east wall. Inside the walls, covered with art, warmly welcome guests and turn any event into a unique event.
Built in 2003 to serve the administrative and artistic needs of the community, it houses offices for the RAC and Art Volunteers and Art Accountants, as well as a Gallery in the RAC and a performance studio. The building houses the first Cultural Resource Center in the regions, where art is performed in well-equipped conference halls, a stunning boardroom, and an art management resource library.
Our friendly staff will help you plan and meet all your needs down to the smallest detail. With special accommodation rates for non-profit organizations, your dream event can become a reality.
Meeting Room
Do your business in rounds! Your board and committee members will sit at a breathtaking table in burnt wood, reserved for the most important discussions and decisions. Wired and ready for all your technological needs, our boardroom will give your meeting a professional edge at an affordable price. (29′ x 25", capacity: 20 at the table, plus another 20 in the room).
Conference halls
Whether it's a seminar, presentation or social event, there are many options: Conference Room B is perfect for use as a classroom or for small presentations (22′ x 32′), while Conference Room C can accommodate larger groups of 150 people (28′ x 47′). Easily accessible kitchen and serving corners in every space make it neat and convenient for coffee, drinks and meals!
Gallery
Let our ever-changing local art exhibition provide the backdrop for your reception. Or open beautiful glass doors and let your guests splash out into the street! (32′ x 25′)
Studio
This place, which can accommodate up to 130 people, has become one of the most popular. From rehearsals to the premiere (and even banquets!), our studio is your clean canvas! (50′ x 34′, high ceilings and studio lights) The studio is perfect for this:
Theatrical and Dance performances
Parties
Live Groups
Seminars
Political rallies
Rehearsals
Poetic helmets
cabaret performances
Award banquets
Roof terrace
Ideal for afternoon parties and festive small meetings with panoramic views! Go up to the fourth floor and see for yourself! (32′ x 19′)
For more information or planning a visit to the facility, please contact the building manager.